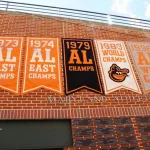 The Tampa Bay Rays and Baltimore Orioles each clinched a playoff berth due to the Rangers' loss to the Guardians on Sunday.  While each team are guaranteed for a playoff spot, the American League East title is still up in the air.
The Orioles defeated the Rays at Camden Yards on Sunday with of 5-4 win in 11 innings. The win means the Orioles currently hold a two-game lead atop the AL East standings, and have a three-game lead in the division.
The Rays and O's are the first American League teams to clinch a postseason berth; they join the NL East champion Atlanta Braves and NL West champion Los Angeles Dodgers. This is Tampa's fifth consecutive postseason berth and the ninth in franchise history.
The winner in the AL East race will likely claim the top-overall seed in the AL side and thus a Wild Card Series bye and home-field advantage through at least the Championship Series. As a result, the runner-up must play in the best-of-three Wild Card Series in the opening round of the MLB playoffs.
Editorial credit: quiggyt4 / Shutterstock.com