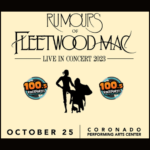 Rumours of Fleetwood Mac, the world's finest tribute to Fleetwood Mac is coming to Rockford Oct 25th at The Coronado
Rumours of Fleetwood Mac, celebrating the music of Fleetwood Mac will be in Rockford Wednesday, October 25th at The Coronado Performing Arts Center at 7:30pm.
Personally endorsed by Fleetwood Mac founding member, Mick Fleetwood, Rumours of Fleetwood Mac is the ultimate tribute to one of rock and roll's most remarkable groups!
Tickets on sale this Friday, June 16th 10am at The Coronado Box Office M-F 10am till 2pm, by phone at 815-968-5222, or at Ticketmaster.com.
Listen to win tickets from 100.5 Rockford's Greatest Hits!