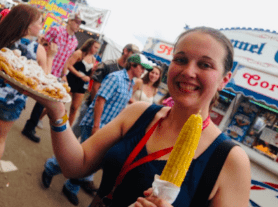 Could you be the one to save Rachel Schultz's life?
I don't know her personally, but I can already tell, Rachel is an incredible human being. She is 31 years old, a Navy veteran and is searching for a kidney donor.
She wrote to the radio station and shared her story. There isn't much said about kidney disease, or being a living donor, but it's about time we get the word out. I believe in the strength of community, and I believe there are good people in the world who will step up, and can step up to help.
You'll hear from Rachel in just a moment. What really stuck out to me was that she just wants to be able to hang out with her friends and family without being exhausted.
I want you to hear it from Rachel's perspective. Here's what she had to say:
My name is Rachel Schultz. I'm a single 31 year old with two kitty fur babies (Pip and Sangha). I was born and raised in Harvard, IL. After I graduated High School in 2006 I joined the U.S. Navy as a Sonar Technician (essentially we hunt submarines) and was stationed on board the Guided Missile Destroyer USS Forrest Sherman DDG-98 out of Norfolk, VA. I was in the Navy for 6 years and was lucky enough to get to travel to 25 different countries on 5 continents. After I got out of the Navy I went to school full time at ECPI University in Virginia where I earned a B.S. in Electronics Engineering Technology with a major in Mechatronics. I went to school full time while I worked full time at ExxonMobil Research & Engineering as an Engineering Technologist. ExxonMobil relocated their campus to Houston, TX in 2013 so upon graduation in June 2014 I moved back to the Northern Illinois area. I got a temporary position at the Belvidere FCA Stamping Plant as a Maintenance Supervisor. I then job hunted until I was hired at UHS (now Agiliti) as a Biomedical Equipment Technician in May 2016. I recently just was hired at Baxter as an Engineer and will be starting at their Round Lake facility on the 15th of July.

At the end of 2015 was when I noticed that my blood pressure was starting to get high. I went to my doctor and in February of 2016 (4 days before my birthday) I was diagnosed with IgA Nephropathy – Stage 3 Kidney Disease. IgA Nephropathy (Berger's Disease) is a type of disease that causes damage to the tiny filters inside the kidneys. There is no cure or treatment for this disease so I was put on a regiment of immunosuppressants and steroids (which is the only current "treatment" to try and slow the disease progression). After 3 months of being on these medications I ended up in the hospital due to a Pseudomonas lung infection and steroid induced diabetes. I was told that my blood sugar was so high that I was supposed to be in a coma (when I was checked in I had a blood sugar level of 1100mmol/L). After a few months of 24 hour IV antibiotics and being on insulin (both of which I was able to get off of thank goodness) I was back to where I started.  Over the next year and a half I attempted to eat a "kidney friendly" diet and stay as healthy as possible to try and slow the progression on the disease but with no real success. By February 2018 I was Stage 5 and in Kidney failure and at this point I was working on getting my body set up for beginning dialysis.This included on having 3 surgeries to try and get my fistula (

surgeon connects an artery to a vein, usually in your arm, to create an AV fistula…this is where the needles get put in every time you do dialysis)

set up for beginning dialysis. I started dialysis treatments on 4th of July 2018. Initially I was doing treatments at a dialysis center 3 days a week for 4+ hours per treatment. Thanks to the help of my roommate I am now able to do dialysis at home 4 days per week. This works much better since I'm still working full time. They like to tell you that you get to do all of the things you love to do while you are on dialysis but that isn't really true. I miss being able to travel (in the US and abroad). Prior to transitioning to Stage 5 I was working on my Masters degree, which I've had to place on hold. I miss being able to just hang out with my friends and family without being absolutely exhausted. At only 31 years old there are so many things that I would love to be doing but don't have the time/energy to do.

The ironic thing about all of this is no one in my family has had kidney issues with the exception of my grandparents (but they were in their 90s when their issues started). I have asked my family members about donating kidneys but they were disqualified during the testing. Also, once you are in kidney failure you are available for Medicare (which I'm on). This is nice since it covers the cost of surgery for a donor. One of the nice things that was just recently in the Illinois legislature they approved HB2847 – Organ Donor Protections. The summary is as follows from 

https://www.billtrack50.com/BillDetail/1068528

.

"Amends the Organ Donor Leave Act. Provides that an employer shall not retaliate against an employee for requesting or obtaining a leave of absence to donate blood, an organ, or bone marrow. Amends the Illinois Insurance Act. Provides prohibitions on denial of coverage and costs of premiums for living organ donors for life insurance, disability insurance, and long-term care insurance policies. Amends the Illinois Vehicle Code. Requires the Secretary of State to review and update certain public service announcements, websites, and other media relating to live organ donation to educate the public on the benefits of live organ donation and the impact of live organ donation on access to insurance. Effective January 1, 2020.

"
Rachel needs your help.
Could you be the match? For more information and to contact Rachel if you'd like to be tested to see if you are a match, please visit
her website.