Restaurants & Bars Offering Drive-Thru, Curbside Pick-Up & Delivery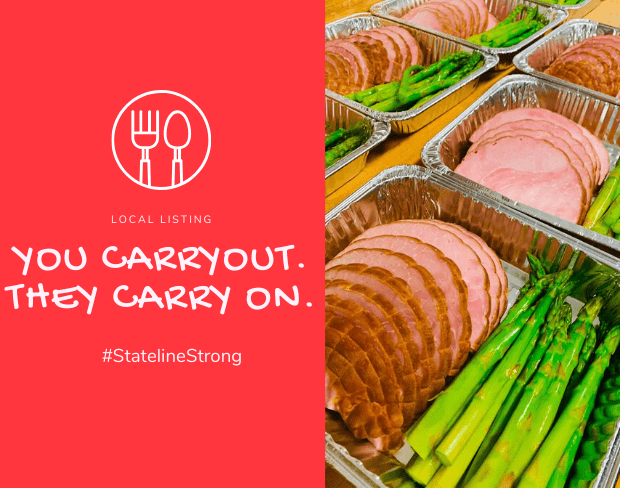 Governor JB Pritzker ordered all bars and restaurants to close at the end of business hours on Monday, March 16. This affects dine-in service, businesses can still offer drive-the, curbside pick-up and delivery.
Here is a list of area bars and restaurants offering drive-thru, curbside pick-up and delivery services. Just click on the bar name to get to their sites. The list will be updated as quickly as possible.
Please email your updates/additions here and include available services.

3 B's Diner (carry-out and curbside pick-up
Abreo Restaurant​ (curbside pick-up)
Alchemy (curbside pick-up)
Alvarez Mexican Restaurant (curbside pick-up)
Anna Maria's (curbside pick-up, delivery, carry out)
Anna's Pizza  (carry out and delivery)
Baci's Kitchen (delivery and curbside pick-up)
Backyard Bar and Grill (curbside pick-up and doordash delivery)
Bagel's and more of Beloit (curbside pick-up)
Baking Grounds North​ (drive-thru)
Beef-a-Roo (drive-thru, delivery, and curbside pick-up)
Bella Luna Bakery (call for pick-up orders)
Big O's On The Hollow (Carryout and delivery)
Blackhawk Steak Pit (delivery and curbside pick-up)
Bravo Pizza (delivery and curbside pick-up)
By The Dozen Bakery (Carryout)
Capri Restaurant and Pizza (delivery and curbside pick-up)
Carlyle Brewing Company (pizzas to-go- call to order pick-up)
Cantina Taco (delivery and curbside pick-up)
Chilango's (delivery and curbside pick-up)
Ciao Bella (curbside pick-up)
Cimino's Durand (Carryout and delivery)
Crazy Times Pub and Grill (curbside pick-up)
Cold Stone Creamery (Carryout and delivery)
Cucina di Rosa (delivery and curbside pick-up)
Culver's  (call-in orders and drive-thru)
Da Catch (Carryout)
De Juan Mexican Restaurant (Carryout and delivery)
Deli Italia (delivery and curbside pick up)
DiTullio's Italian Market & Cafe (curbside pick-up and delivery)
Doc's Diner (curbside pick-up and delivery)
Eggsclusive Cafe (drive-thru)
El Burrito Loco (delivery and drive-thru)
Faranda's (Drive-thru pick-up meals) 302 Grove Street Dekalb, IL
Fibs (curbside pick-up)
Food 4 Fuel​ (curbside pick-up)
Franchesco's Ristorante (delivery and drive-thru window)
Fresco at The Gardens​ (Carryout and delivery)
Garrett's Restaurant & Bar​ (curbside pick-up)
Gene's Irish Pub (Curbside pick-up)
Gerry's Pizza (curbside pick-up and delivery)
Gill's Diner (curbside pick-up and delivery)
Giordano's (curbside pick-up and delivery)
Great Harvest Bread Company (Carryout and Call ahead orders)
Great Wall Restaurant (curbside pick-up and delivery)
Halo Cupcake​ (carryout and call ahead)
Hooters (curbside pick-up and doordash delivery)
IHOP Rockford (curbside pick-up and delivery)
Irish Rose Saloon​ (pick-up)
Isla Del Mar (curbside pick-up)
It's AWing Thing (delivery and curbside pick-up)
JAX Pub (curbside pick-up and delivery via doordash)
Jessica's (curbside pick-up and delivery)
JMK Nippon (curbside pick-up)
John's Restaurant Pizzeria & Steakhouse (curbside pick-up and delivery)
JohnnyMarc's Fusion (curbside pick-up) Pamcakes (curbside pick-up from both locations)
Kennedy's on Benton (Online delivery, curbside pick-up, and carry out)
Kuma's Asisn Bistro​ (Carryout)
La Piazza (curbside pick-up and delivery)
Legacy (curbside pick-up)
Legend's (curbside pick-up)
Lino's (curbside pick-up)
Louie's Tap House (curbside pick-up and delivery)
Lucha Cantina (curbside pick-up and delivery)
Lucy's #7 Burger Bar (curbside pick-up)
Lydia's Cafe (curbside pick-up)
Maciano's Pizza and Pastaria (Curbside pick-up, delivery, and carryout)
Magpie (curbside pick-up, carryout, and delivery)
Mama Cimino's in Dixon (Carryout, curbside pick-up, delivery)
Marc's Fusion (curbside pick-up)
Mary's Market (curbside pick-up at all locations and drive-thru; all locations)
Marie's Pizza (curbside pick-up and delivery)
Meg's Daily Grind (drive-thru)
Murphy's Pub (curbside pick-up and delivery)
Napoli Pizza – Loves Park (curbside pick-up and delivery)
Nunzio's Restaurant (Carryout and delivery)
Octane (curbside pick-up)
Olivo Taco Restaurant & Food Trucks (Carryout- Food Truck continues as normal)
Olympic Tavern (curbside pick-up and delivery)
Omakase (curbside pick-up and carry out)
Oscar's Pub and Grill (curbside pick-up and delivery via doordash)
Panino's​ (Carryout and delivery)
Pietro's Pizzeria (curbside pick-up and delivery)
Pig Minds Brewing Company​ (curbside pick-up) Also, beer can be picked up as well!
Pino's on Main (curbside pick-up and delivery)
Plaza Los Panchos Bar & Grill Cantina (Carryout)
Poison Ivy Pub (Carryout)
Potbellies (curbside pick-up and delivery)
Prairie Street Brewing Co. (delivery) will also be delivering beer!
Rascal's Bar and Grill (curbside pick-up and delivery)
RBI Restaurant and Bar (curbside pick-up and delivery)
Red Robin (curbside pick-up and delivery)
Robin's Nest Cafe (curbside pick-up and delivery)
Rockford Roasting Company (Carryout)
Rock Pho'd (curbside pick-up)
Rookie's Pub & Grill (curbside pick-up)
Rosati's Pizza (Carryout and delivery)
Salamone's in Cherry Valley (curbside pick-up and delivery)
Salamone's North (curbside pick-up and delivery)
Sam's Ristorante & Pizzeria (curbside pick-up and delivery)
Sam's Pizza – Rockton (curbside pick-up and delivery)
Sandwich Factory (Carryout and delivery)
Schiro's (curbside pick-up and delivery)
Sheri's Place (Carryout)
Shogun (curbside pick-up and delivery)
Shooters Bar & Grill (Carryout and curbside pick-up) ALL ORDERS GET FREE BOWLING FOR 5!
Sips and Sprinkles (Carryout and delivery)
Sisters Thai Cafe (curbside pick-up and delivery)
Sister's on Main (curbside pick-up and delivery)
Souses Lounge (curbside pick-up and delivery)
Spring Garden Family Restaurant (carry-out and delivery)
Stewart Eatery (curbside pick-up and delivery)
Subway (LOVES PARK LOCATION- Drive-thru, Carryout, and delivery via doordash)
SugarJones (curbside pick-up and delivery)
Sunrise Restaurant (Carryout and delivery)
Spider Sushi Bar (curbside pick-up and delivery; both locations)
Swedish Pancake House (curbside pick-up and delivery)
Tacos El Toro​ (pick-up)
Thrive Cafe (Carry out orders)
Vintage @ 501 (curbside and carryout)
Weezy's Sports Bar (delivery)
Wired Cafe (curbside pick-up)