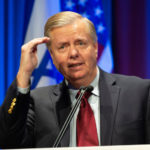 On Tuesday, Sen. Lindsey Graham, R-S.C., testified before a special grand jury investigating whether President Donald Trump and others illegally meddled in the 2020 election in Georgia. Graham's appearance before the panel came after a drawn-out legal fight that went all the way to the U.S. Supreme Court as Graham tried to avoid testifying. He had argued that his position as a senator shielded him from questioning. The courts rejected his assertion but did rule that prosecutors and grand jurors could not ask him about protected legislative activity.
Graham's office said in a statement he testified for just over two hours and answered the grand jury's questions: "The senator feels he was treated with respect, professionalism and courtesy. Out of respect for the grand jury process he will not comment on the substance of the questions."
Fulton County District Attorney Fani Willis, who is heading the investigation, is seeking details about phone calls Graham made to top election officials in Georgia amid disproven allegations from then-President Donald Trump about widespread voter fraud in the 2020 election. Willis' office is probing a pair of post-election phone calls Graham made to Secretary of State Brad Raffensperger and his staff. Raffensperger, a Republican targeted by Trump and his allies, alleged that Graham suggested that he had the authority to reject certain legally cast ballots. Graham denied having made such a suggestion, saying he was trying to understand the state's process for verifying ballot signatures.
Editorial credit: lev radin / Shutterstock.com