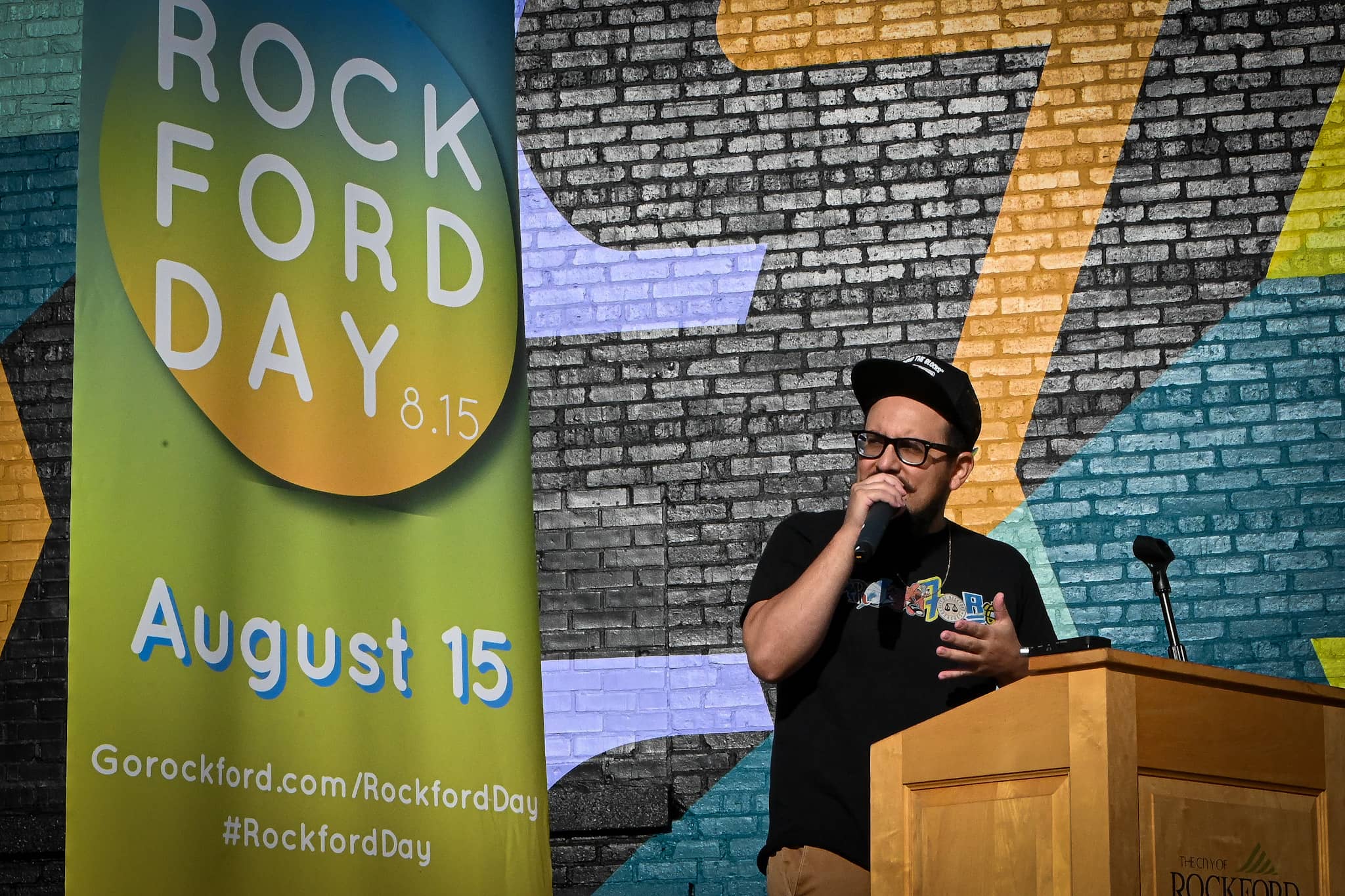 ROCKFORD — The city's official kick-off to Rockford Day didn't miss an opportunity to hammer home the 815 theme.
Mayor Tom McNamara and a host of others gathered at 815 E. State St. in front of the newly painted 815 mural to proclaim Monday, 8/15, as Rockford Day in an event that started at 8:15 a.m.
But 815 Day, which has been celebrated now for six years on Aug. 15, isn't just about the numbers of the city's primary area code. It's a chance to take pride in your community and support the businesses and people who make it a great place to live, McNamara said.
"This is really a wonderful way for our community to really take stock and take pride in all of the offerings that we have," he said Monday morning. "From our parks and recreation aspects to so many local businesses and so many wonderful people who make up Rockford as a community."
Vic Rivera, an artist and DJ who has helped organize multiple events and cultural celebrations in the city, said his parents came to Rockford from Mexico in the 1970s with the dream of a better life.
"The dream that my father had about Rockford being the greatest city in the world is the dream that I still feel very strongly about," Rivera said at the kick-off event. "So when you see me in the community doing things, it's because I believe in that dream. I believe this is one of the greatest cities on the face of this Earth and I'll tell anybody that all day."
Rivera and McNamara were both wearing Rockford-themed T-shirts that Rivera designed. The shirts use classic Rockford logos to spell out the city's name. Rivera designed it, and then got help refining the graphic from Dana Reeder of Swap House 815.
The shirt uses logos of the Rockford Cubbies, Lightning, IceHogs, Symbol with a sock monkey on top, Mrs. Fisher's potato chips, Rockford Peaches, Rockford Products and the Rockford Rivets to spell out the city name.
"Everyone has a connection with each one of these logos," Rivera said. "It really does speak to everybody, and the nostalgia it brings to everybody is really heartwarming."
You can get the shirt from noon to 6 p.m. today at Swap House 815, 1019 Fifth Ave., which is also selling prints of the design.
That's just one example of the plethora of businesses running 815-themed deals or special events, from Bygone Brand and Rockford Art Deli merchandise to Kegel's Bicycle Store, Crimson Ridge and many others.
Anderson Japanese Gardens, for example, is offering admission for $8.15 all day.
"Anderson Gardens is known nationally and internationally, and every week I get people that show up that live here who are completely unaware that this beautiful place was located right in their backyard," said John Gleason, CEO of Anderson Japanese Gardens.
Robb Sinks of Kegel's at 2605 Charles St. was at Monday's event wearing his store's 815-themed shirt, which uses the numeral 1 to look like the front tire of a bicycle.
McNamara concluded the event by reading the official proclamation proclaiming it Rockford Day, "a day of incredible celebration and community pride," and encouraging people to spend the day supporting local businesses.
"We really want to encourage all Rockfordians to get out and support your local businesses that really do so much for all of us," he said. "When you spend you dollars locally they go farther, and it's a much greater impact on our community."
Map of Rockford Day deals, events
This map from the Rockford Area Convention & Visitors Bureau shows the locations of many specials and events.
Things to do on 815 Day
Numerous businesses and nonprofit agencies are offering specials or hosting events in honor of Rockford Day. You can see the complete list from the visitors bureau at gorockford.com/rockford-day.
---
This article is by Kevin Haas. Email him at khaas@rockrivercurrent.com or follow him on Twitter at @KevinMHaas or Instagram @thekevinhaas.