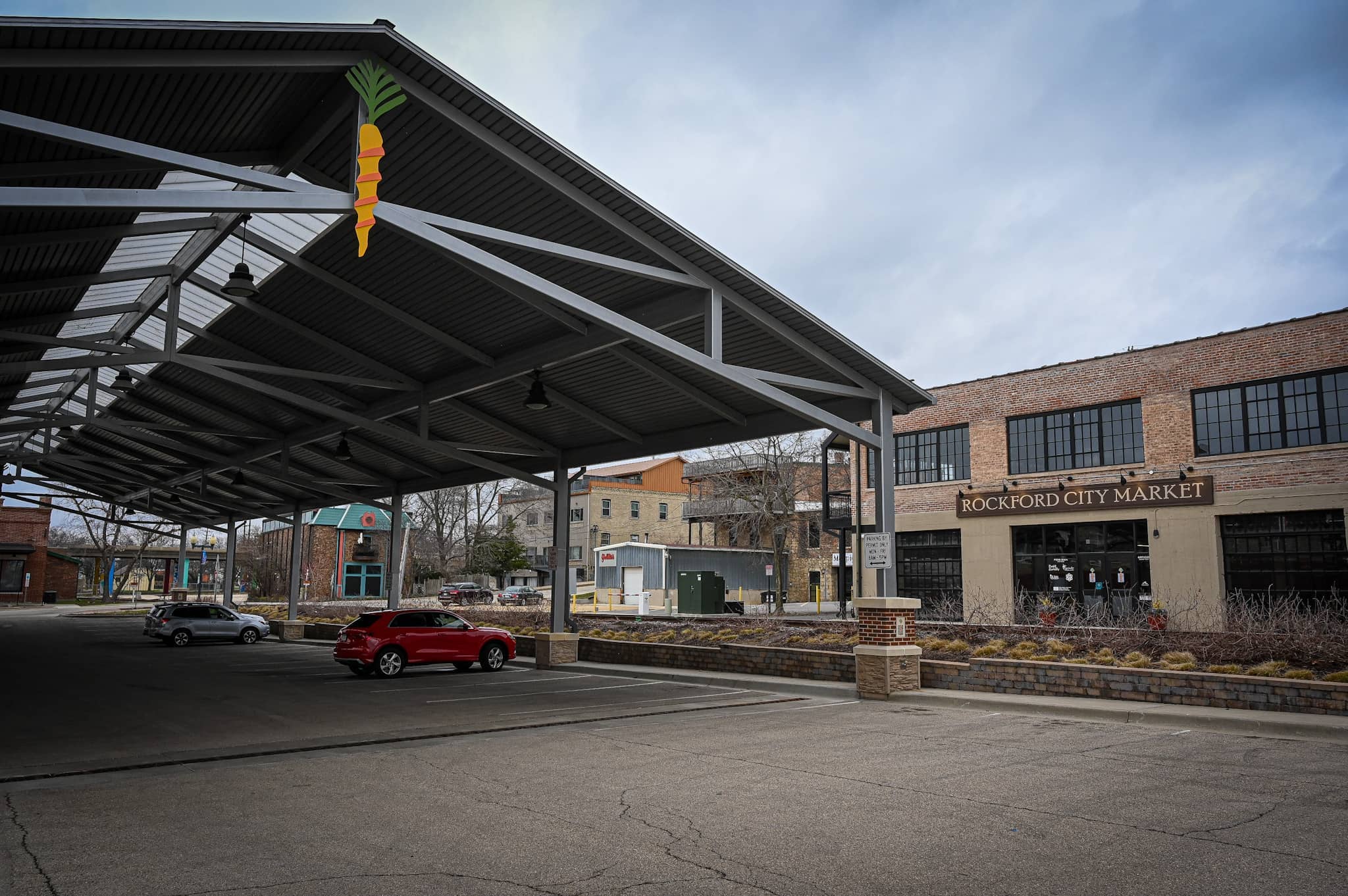 Aldermen voted 10-2 on Monday, April 18, 2022, to keep State Street closed between Madison and Wyman streets during Rockford City Market. (Photo by Kevin Haas/Rock River Current)
ROCKFORD — State Street will be partially closed on 20 Friday nights this summer for Rockford City Market, aldermen decided on Monday night.
It's a decision that disappoints dozens of downtown business owners who were pushing for the City Council to leave the main thoroughfare open to create better access for customers and visitors to their stores and restaurants. But it's also a smaller road closure than city staff working in conjunction with the market had initially proposed.
The compromise aldermen voted 10-2 to approve keeps State closed between Wyman and Madison streets instead of closing the road as far east as First Street. Madison Street will remain open to traffic. Alderman Tim Durkee, a 1st Ward Republican, and Alderwoman Aprel Prunty, a 6th Ward Democrat, voted against the measure, which was approved after about an hour of debate.
There were 71 downtown businesses who signed a petition asking for State to remain open, an additional seven from when it was presented to aldermen a week ago. The businesses said the road closures have created confusion for customers and vendors and led to a loss of revenue.
"When you have 71 downtown businesses signing a petition to open up all of our streets on Friday nights and that's ignored, I feel like that's disappointing," said Stephanie Caltagerone, the owner of Magpie restaurant. "Especially in light of the timing of it all and what we've all been through for the past two-and-a-half years. It's a miracle that there are 71 of us left here."
(story continues below photo)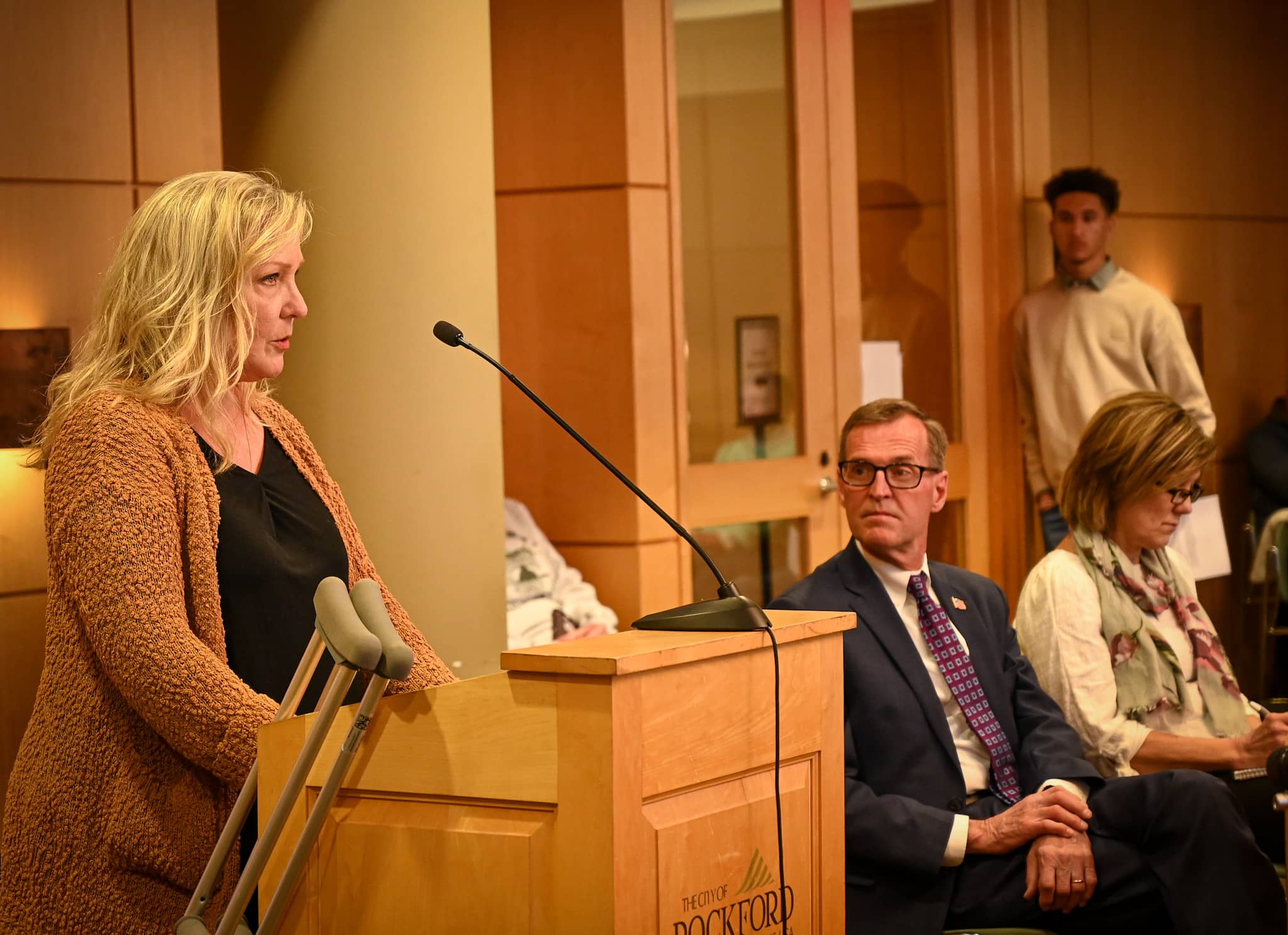 Sandra Kohn, co-owner of Medicine Man Creative on East State Street, said 85 businesses were approached with the petition and 14 were either neutral, against signing or unavailable. That means 83% of those approached were in support of keeping State open.
"We desire a return to normalcy for all the stakeholders after two years of pandemic and chaos," she said.
Pedestrian safety concerns
The road closures were prompted in part by pedestrian safety concerns, including the safety of market visitors and protesters who in 2020 began weekly demonstrations at City Market. City officials, as a means to exemplify the need for additional road closures, said an unauthorized vehicle breached barricades during Stroll on State and that there were tense moments between protesters and motorists in 2020.
"I'm sick and tired of seeing every single week these pedestrian deaths, I don't want to take the risk of that happening at City Market as that continues to grow," said Alderwoman Gabrielle Torina, a Democrat who represents the city's 5th Ward.
Alderwoman Janessa Wilkins, a Democrat who represents the 7th Ward, agreed that even if road closures lead to some revenue loss "no amount of money is worth a life."
"I'm not willing support a decision with opening State Street for the market and put someone's life in danger," she said.
Peter Provenzano, chairman of the Rock River Development Partnership, said he hopes the city will use additional traffic calming measures along Madison Street for safety purposes.
"It's about the safety of our visitors, it's about the safety of demonstrators, it's about the safety of our vendors," Provenzano said. "I just hope that we do more with regard to pedestrian safety in the days, weeks and months to come."
The additional space on State Street would've been filled with vendors and other programming, Provenzano said, but City Market will rearrange its initial plans. More than 70 vendors are slated to participate in the market. Provenzano, noting that several vendors have grown out of the market to open their own brick-and-mortar spaces, said Rockford City Market will work to promote both its vendors and the brick-and-mortar businesses in the area this year.
City Market conducted surveys last year in which 60% of the downtown businesses that responded said their business was equal to or better than 2019. In addition, 65% of those surveyed said they got spillover business from the market.
"Downtown has been prominent in the news and I think that's a good thing," Provenzano said. "I hope this year we'll have an opportunity to showcase downtown businesses on both sides of the river."
Attempts at compromise
During the council's discussion, Durkee attempted a motion that would've opened State Street completely like business owners have demanded. However, that motion failed to get a second council member in support and was not brought for a vote.
"Wayfinding in downtown is a disaster. Trying to negotiate people around, closing State Street can be really problematic," Durkee said, noting several businesses on the west side of the river downtown. "It gave me the impression that we're now creating an east and west side of the river, and I really would like to see our downtown footprint really push across the river."
Alderman Mark Bonne, who proposed the initial partial State Street closure last week, attempted to take "one more step toward compromise" on Monday with an amendment that would've allowed City Council to revisit the road closure at the market's halfway point of 10 weeks. However, that amendment failed 10-2 with support from only Bonne and Durkee.
"My thought was simply to walk another step closer to the downtown businesses, because at the end of the day … this is everyone's livelihood, this is their bread and butter," Bonne, a Democrat who represents the 14th Ward, said. "The market, while it's a great thing, it's a nonprofit entity. Nobody is not able to put their food on the table if the market suffers a little versus if the downtown businesses do."
Alderman Frank Beach made a motion to reconsider the vote immediately after its approval. His goal was not to change his mind, but rather to put the issue to rest for good this week. That's because City Council rules stipulate once a vote to reconsider happens the measure can't be reintroduced. However, Beach's motion failed 9-3. That leaves room for it to be reconsidered next week, although that can only happen at the request of an aldermen who voted on the prevailing side Monday.
Business owners who petitioned the city have consistently said they support the market and think it has been a benefit to the downtown and its shops. However, they said expanding its footprint and road closures was an overreaction to challenges created by regular protests in 2020 and the need for social distancing.
"The market has indeed been a catalyst for exposing our businesses to thousands of visitors each year," Kohn said to council members before the vote. "We would like to see this continue and are determined to work in concert with the market to create a robust and exciting experience Friday nights this summer."
City Market is scheduled to kick of its season May 20. It runs from 4 p.m. to 8:30 p.m. Fridays until Sept. 30, with hours shifting to 4 p.m. to 7:30 p.m. after Labor Day.
How they voted
Yes: Jonathan Logemann, D-2; Chad Tuneberg, R-3; Gabrielle Torina, D-5; Janessa Wilkins, D-7; Karen Hoffman, D-8; Bill Rose, D-9; Frank Beach, R-10; Tuffy Quinonez, D-11; Gina Meeks, D-12, Mark Bonne, D-14.
No: Tim Durkee, R-1; Aprel Prunty, D-6.
Absent: Kevin Frost, R-4; Linda McNeely, D-13.
This article is by Kevin Haas. Email him at khaas@rockrivercurrent.com or follow him on Twitter at @KevinMHaas.