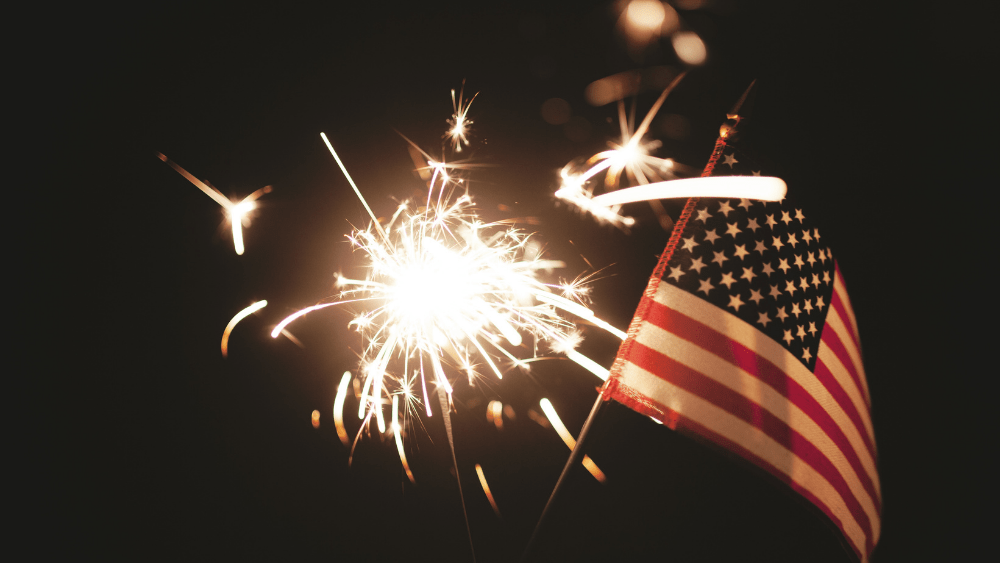 Time to party like it's 1776 because Rockford's Fourth of July fireworks show and more is happening this year. After being canceled due to the pandemic in 2020, this year the Civic Committee is making sure this year's 4th of July is bigger and better than ever before.
There will be events happening from sun up to sun down in downtown Rockford and here is what you need to know to plan your day accordingly!
7 am Lifescape 4th of July Classic Run/Walk in Downtown Rockford, please contact Lifescape for all information on their Run/Walk Event 
9 am Patriotic Prayer Breakfast at Beattie Park sponsored by Anderson Toyota 
4 pm Davis Park Box Office Opens, Cash or Credit Accepted. $5 Admission/Donation,  Children 5 and under are Free. $4 Admission/Donation for Veterans 
Davis Park will have Live Entertainment for All and a FREE Children's area featuring  Wonder Woman, Captain America, Face Painters, Glitter Tattoo Artists, and Kids Yard  Games. Children's Area Sponsored by Nelson Piping Company. Olivo Taco, Pizza  Fresca, DNA Concession and Rapped with Smoke BBQ will be in the park. Hayes  Distribution (Miller Light, PBR, Coors Light, Truly Twisted Tea, and more) along with  Pepsi Products are also available in the park. Best seat downtown for the fireworks. 
4:30 pm Dominick "Freedom" Bennett will be the Parade Master of Ceremonies at the Parade  Grandstand located at the corner of State and Wyman Streets 
4:40 pm Motorcycle Parade Begins 
4:50 pm Screw City Jeeps, Jeep Parade Begins 
5:00 pm Main Patriotic Parade Begins 
5:30 pm Free Live Musical Entertainment at the Block 5 Greenspace by Swingbilly RFD www.4thandlights.com 
6 pm Live Musical Entertainment inside Davis Park begins from Blind Date Sponsored by  Wheels by RT 
6 pm Live Children's Entertainment inside Davis Park begins 
6 pm Free Live Musical Entertainment at Ingersoll Centennial Park begins from Rollin' Whiskey Sponsored by Wheels by RT 
6:15 pm Free Live Musical Entertainment at the Parade Grandstand begins from The Real Deal Sponsored by Wheels by RT 
6:30 pm Free Live Musical Entertainment at Joe Marino Statue begins from Mr.Ed Sponsored  by Wheels by RT 
9:15 pm Davis Park Box Office CLOSES 
9:30 pm Rockford 4th of July Civic Committee, MEIJER, MidWest Family Broadcasting,  WTVO17/FOX39 present Skyconcert 2021. Tune to 95.3, 104.9 or 103.1 for the  
Synched Soundtrack to the 30 minutes Firework Spectacle in the Sky. 
PARADE ROUTE 
The Patriotic Parade forms on 7th Street and 6th, 5th, and 4th Avenues. The Parade then proceeds North on  7th Street to State Street, West on State Street, cross the bridge and continue down State Street and finally disband at Church Street.  
FIREWORKS INFORMATION: 
30 Minute Show Synchronized to a soundtrack filled with patriotic, love, and unity-themed music. Highest shooting show in the area with shells exploding at 500' in the air up to 800' (For height perspective,  that is like putting 3.5 [500'] Embassy Suites on top of each other at the lowest height and almost 5 [800'] Embassy Suites on top of each other at the highest height)!! Most shells, when exploding, are the size of 2  football fields wide! 
The multi-award-winning pyro company, Melrose Pyrotechnics, will again oversee all fireworks this year.  Melrose Pyrotechnics portfolio includes major sporting events with the NFL, NBA, NHL, and MBL as well as thousands of social events and A-List Concerts that we are all familiar with. They are considered one of the most premier and professional Pyrotechnics companies in the United States. 
5,800 shells will be ignited, including different styles of shells from all over the world. Some of those shells are new styles of Fireworks that have never been seen anywhere else in the Midwest BUT will be featured here, in Rockford, first! 
There will be a full 3-minute finale which will feature a shell exploding in the air every 1 ½ seconds!
OFFICAL FOOD VENDOR INFORMATION: 
Ingersoll Centennial Park: Olivo Taco & The Skybox Food Truck 
Parade Grandstand Stage (Wyman & State Streets): TBD 
Joe Marino Statue (Water & State Streets): La Calle Churro's 
Block 5 Greenspace (Across from City Hall): Disco Chicken, Veebo's Pizza, Wok and Roll by Bamboo,  Cantina Taco & You're Bacon Me Crazy 
Davis Park: Olivo Taco, Rapped with Smoke BBQ, DNA Concessions, Pizza Fresca, Adult Beverages from  Hayes Distribution and Carbonated Beverages/Bottled Water from Pepsi 
ROAD CLOSINGS 
Main Roads in and around downtown will begin to shut down at 3:30 pm.
BEST VIEWING AREAS 
Davis Park, South Lawn, Chestnut Street Bridge, State Street Bridge, Block 5 Greenspace, Ingersoll  Centennial Park, Old Watch factory/UW Sports Factory Parking Lot, Morgan Street Bridge, Lot 2 (off of  Walnut), Buchanan Street, Embassy Suites (reservations required), Along the riverbank at private social clubs and bars.
PORTAPOTTY LOCATIONS 
There will be many portapotty locations all throughout downtown. 
7th St, State & 5th, State St (Arts Council Building), State & 2nd, State and 1st, State & Madison, Madison &  Walnut, S Main St (Near Ingersoll Park), State & Wyman, Davis Park Entrance, Davis Park, N Chestnut St,  and Morgan St Bridge. 
HANDICAP PARKING 
Handicap Parking is available in the parking lot adjacent to the north side of the Embassy Suites. Show your  Handicap placard to the police officer or security guard at the barricades in order to utilize this lot.
Click here for more info!