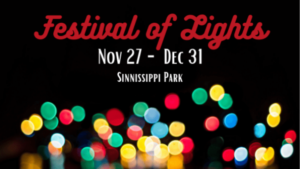 31 Years Lighting Up the Holidays! This event has become a state-line family tradition since 1989. It began with just 11 displays and has grown to over 50 each year. Drive through Sinnissippi Park with your radio tuned o the Christmas Music Station, B103- 103.1 FM.
2020 Showing Schedule
Friday, Saturday, Sunday – 11/27-11/29, 5pm-11pm
Friday, Saturday, Sunday – 12/4-12/6, 5pm-11pm
Friday, Saturday, Sunday – 12/11-12/13, 5pm-11pm
Friday 12/18 to Wednesday 12/23, 5pm-11pm
Christmas Eve & Christmas Day – 12/24-12/25, 24 Hours (Shuts off at Midnight)
Saturday 12/26 – Sunday 12/27, 5pm-11pm
Thursday – 12/31, 5pm-12am (FINAL NIGHT/New Years Eve)
Hours are subject to change and there is NO CHARGE to drive through the displays. Donations accepted and appreciated!
Santa & Christmas Letters
Santa's Festival of Lights Schedule:
7:00pm – 9:00pm
Friday 11/27 – Sunday 11/29
Friday 12/4 – Sunday 12/6
Friday 12/11 – Sunday 12/13
Friday 12/18 – Sunday 12/20
Santa Claus will be in the center of Sinnissippi Park to wave and say hello to your family as they roll through this years Festival of Lights. Santa is Sponsored by WHEELS BY R.T.!
Right before you get to Santa, there will be a red mail box where you can put your letters to Santa in. They have a special delivery courier that will deliver them to the North Pole. Make sure to include your return address so Santa and his elves can write you back!
Postage not required…the spirit of Christmas is all the postage you need. Make sure to get those letters put in the special mailbox by December 19th so that your child will receive a response!