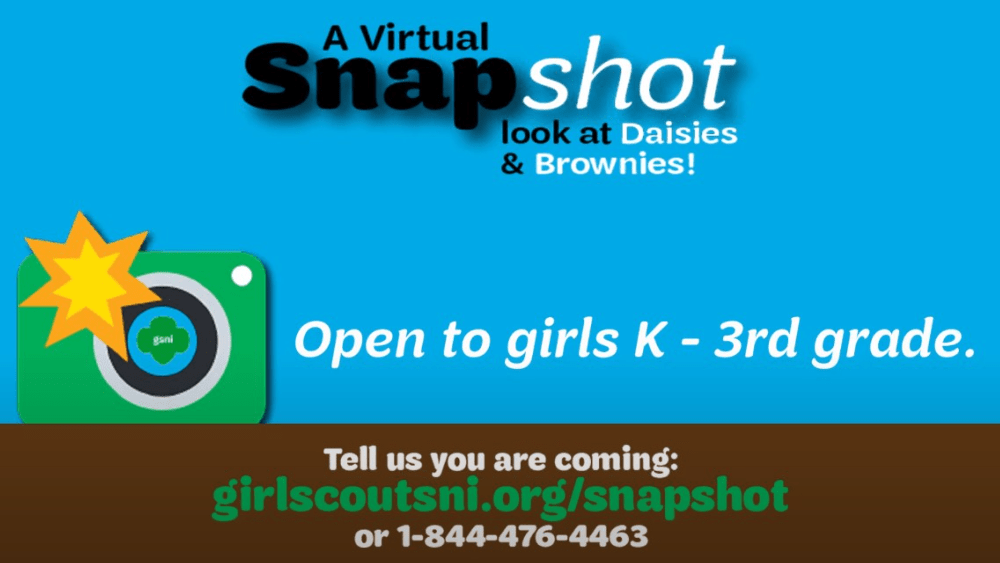 Northern Illinois – Recent health and safety guidelines affected many youth serving organizations, and Girl Scouts of Northern Illinois (GSNI) is no different. The organization turned to technology and safe, in-person outdoor events to provide girls with the necessary benefits of the Girl Scout Leadership Experience.

The organization started offering Girl Scout SnapShots—20-minute virtual activities for girls
in Kindergarten and grades 1–3 and their families who are interested in learning more about Girl Scouts! Girls meet new friends online in real time while choosing between activities like building an edible campfire, making a robot friend, crafting a bird's nest, or designing a fairy house. SnapShots are available in both English and Spanish.

After participating in a SnapShot event, interested families are invited to an online family meeting where they can choose to register their girl as a Girl Scout! Families can sign up for a convenient Girl Scout SnapShot that fits their schedule at www.girlscoutsni.org/snapshot.

GSNI kicked off their virtual recruitment campaign in mid-July 2020 and has hosted over 20 SnapShot events resulting in nearly 50 girls registering as first-time Girl Scouts!

"SnapShots give families the chance to preview Girl Scouts. We meet online and do virtual activities together in real time, but we talk about safe ways Girl Scouts can currently have adventures in-person and online. Then, as interested girls register, they're placed in new and existing Girl Scout troops in their area to start their own Girl Scout journey," says MaryBeth Markwell, GSNI Recruitment Resource Manager.

The organization is also hosting safe, in-person Girl Scout Drive-Thru events for interested new members! These events take place outdoors where girls and their families can easily socially distance while playing outdoor Girl Scout games and meeting new friends! GSNI will follow all recommended health and safety practices, including asking participants to wear masks and providing enough space to maintain a distance of 6 feet between families. Hand sanitizer will also be available.

Interested families can learn more and get started at www.girlscoutsni.org/snapshot or contact GSNI at 1-844-476-4463 or customercare@girlscoutsni.org.