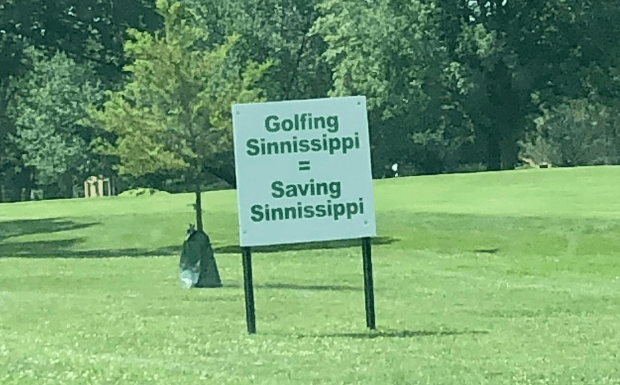 I have many amazing memories at Sinnissippi Golf Course with my Paw and going to hit balls with him so hearing that there were rumors of Sinnissippi Golf Course closing, was super upsetting.
Save Sinnissippi Golf Course Committee met in front of the Sinnissippi Golf Course Club House, Wednesday, July 29th.
Now thanks to the many amazing people who volunteered and all had the same goal of achieving financial stability for this historic golf course, Sinnissippi has seen a significant increase in golfers, old and young this summer even despite COVID-19 restrictions. They also have groups and leagues filling the course up 7 days a week!
Total rounds to date at Sinnissippi are 8,386, a 14 percent increase from 2019. Three new leagues were formed and now a total of six leagues play at Sinnissippi. New participants total 72, bringing the league golfer total to 156 golfers. Ann Bloomfield, General Manager of Golf Services for the Rockford Park District, also notes 402 young rounds so far.
Wednesday's Play Day by Entre Computer Solutions is the largest play day ever hosted at Sinnissippi. Another new play day is being presented by Rockford Area Music Industries (RAMI) on Friday, August 21.
Golf Sunday Play Days are held every Sunday after 3 p.m. for a cost of $5 per person. All ages are welcome, especially families and beginners.
Some golf events are being planned for late summer and fall but are uncertain at this time because of COVID-19.
However, the popular Nine and Wine will be held on Saturday, September 26. Nine and Wine is a unique golf and wine sampling featuring a two-person scramble and nine holes of golf with cart. Wine samples, games, prizes, and snacks follow the golf. Registration details will be provided soon at golfrockford.org.
The Save Sinnissippi Golf Course committee has helped realized many of these achievements. The committee was organized late last year with the goal of developing a plan to achieve financial viability for the historic golf course. This grassroots organization includes several subcommittees, all working to preserve this neighborhood golf course.