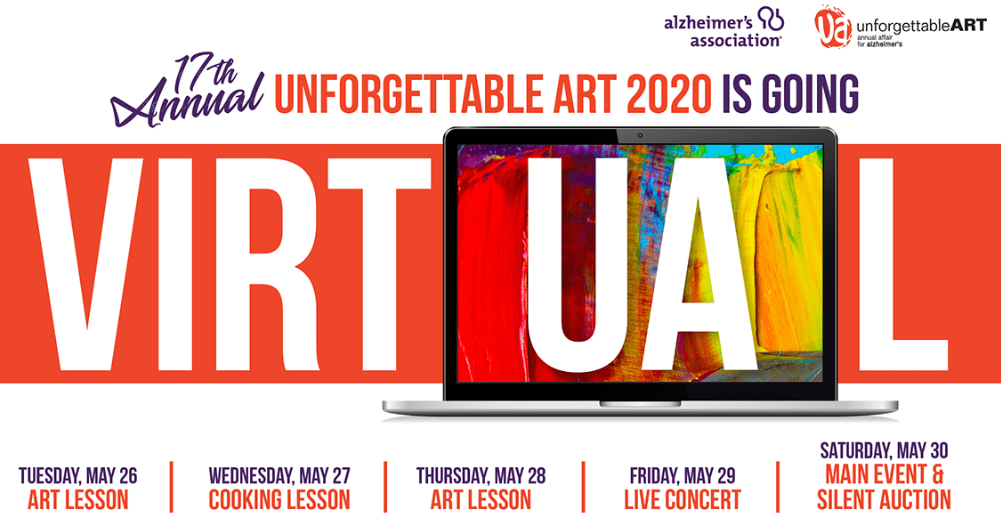 WHAT: The Alzheimer's Association Illinois Chapter's event, Unforgettable Art: An Affair for Alzheimer's, is going virtual. This year's Unforgettable Art event will feature a virtual silent art auction boasting over 40 original pieces from our talented lineup of artists. The silent auction will take place on Friday, May 29 and Saturday, May 30, with bonus events leading up to it including art lessons, cooking lessons and a live concert. Unforgettable Art benefits the Alzheimer's Association Illinois Chapter. Support from this event allows us to further our mission of funding research, providing programs, support services and education to Alzheimer's patients, families and caregivers.
WHEN:
Tuesday, May 26: Art Lesson with one of our featured artists, Marietta Faso
Wednesday, May 27: Cooking Lesson with Ali Garza of The Macro Kitchen
Thursday, May 28: Art Lesson with one of our featured artists, Mary Fedorowski
Friday, May 29: LIVE at 7:00pm – Todd Lorenc performs a dinnertime concert & the SILENT ART AUCTION begins at 9:00am
Saturday, May 30: LIVE at 6:00pm – Unforgettable Art Program with speeches by Alzheimer's Association staff and our Mission Speaker and featured artist, Maureen Gasek & the SILENT ART AUCTION ends at 9:00pm
HOW: Purchase virtual tickets online at www.unforgettableart.org. Event ticket includes access to all five days of fun events, access to the silent auction and entry into the raffle for prizes.
CONTACT: Elizabeth Cook, Senior Manager, Media Relations, eacook@alz.org, 847.324.0384
About the Alzheimer's Association Illinois Chapter:
The Alzheimer's Association® is the world's leading voluntary health organization in Alzheimer's research, care and support. Our mission is to eliminate Alzheimer's disease through the advancement of research; to provide and enhance care and support for all affected; and to reduce the risk of dementia through the promotion of brain health. The Alzheimer's Association Illinois Chapter covers an 87-county area with offices in Chicago, Joliet, Rockford, Springfield, Bloomington, Peoria, Quincy and Southern Illinois. Since 1980, the Chapter has provided reliable information and care consultation; created supportive services for families; increased funding for dementia research; and influenced public policy changes. The Illinois Chapter serves more than half a million Illinois residents affected by Alzheimer's disease, including more than 230,000 Illinois residents living with the disease. Our vision is a world without Alzheimer's®. For more information visit www.alz.org/illinois or call our free 24/7 Helpline at 800.272.3900.