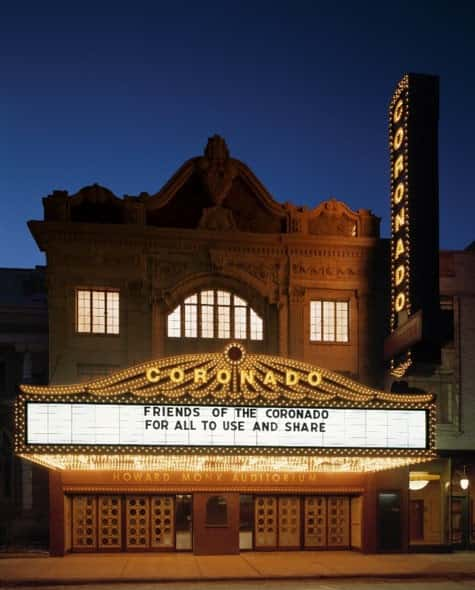 The Friends of the Coronado Foundation is proud to announce it has received a $14,690 grant for the LED lighting fixture conversion of the towing Coronado Marquee sign. The grant was awarded by the Community Arts and Humanities Fund of the Community Foundation of Northern Illinois Community Grants Program.
Preserving the shine and sparkle, the regal Coronado Marquee will be updated with LED technology.  2,500 LED lightbulb fixtures will be installed to replace the current outdated compact florescent bulbs.  The new LED technology will add energy efficiency and bring back the historic look of an oblong clear filament bulb.
"Theater historians refer to a theater's marquee sign as the "Electric Tiara" of these grand former movie palaces. Back in the 20's they were feats of engineering with chasing lights on towers reaching to the sky and canopies extending over busy streets bustling with Model T's. The 1927 original Coronado Marquee was almost 90 feet high with 10,000 lightbulbs. The original Coronado Marquee was replaced in the late 70's and was devoid of architectural elements.  The 2000 restoration brought back the elegant design of the 20's in a more modern size of 50 feet and just over 2,500 lights.  We are excited to be able to address 100% of the lightbulb conversion with this generous grant completing the first phase of our exciting Marquee Project.  The project will culminate with the installation of an electronic message system adding an exciting vibrancy to the historic Coronado Theatre and downtown.  This funding of the first phase of the project with 100% of the LED lightbulb fixture conversion is an extraordinary gift from the CFNIL" Beth Howard, Executive Director
About The Friends of the Coronado Foundation:
The mission of the Friends of the Coronado Foundation is "Advocating for and preserving the Coronado Theatre for All to Use and Share."
Friends of the Coronado is a 501(c)(3) organization founded in 1997 to spearhead and manage a capital campaign that resulted in the 18.5 million dollar renovation, restoration and 2001 reopening of the historic Coronado Theatre in Rockford. Today the Friends organization still raises fund for the Coronado preservation and up holds standards for preservation so that the theater can remain a beacon to the community for cultural enlightenment far into the future.  www.friendsofthecoronado.org
About the Community Foundation of Northern Illinois:
The mission of the Community Foundation of Northern Illinois is to serve as a catalyst for giving in order to attract, preserve, and grow an endowment for current and future needs of Northern Illinois. Since its founding in 1953 CFNIL has granted more than $71 million for charitable purposes. Learn more about CFNIL's grantmaking and commitment to endowment at cfnil.org.