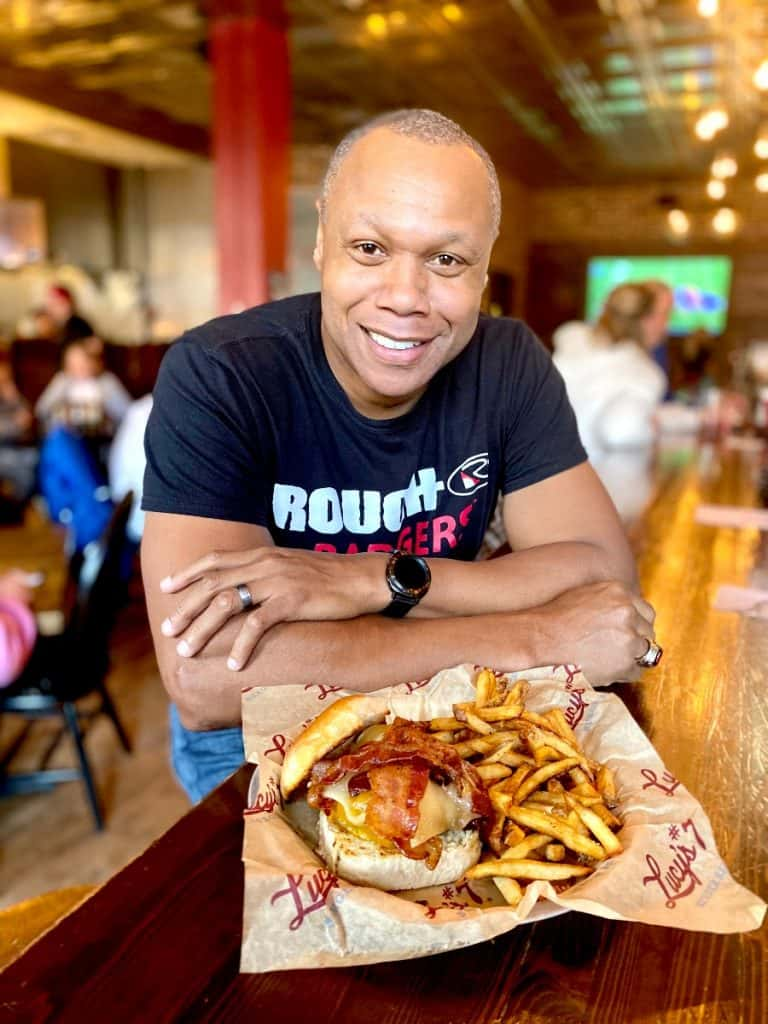 Burger joint partners with Wisconsin basketball hall of famer for latest burger
BELOIT, Wisc. (January 6, 2020) – Lucy's #7 Burger Bar has announced its first Burger of the Month (BOM) for 2020, the Hall of Fame burger. Stuffed with provolone and topped with layers of bacon and cheese, January's burger has an interesting story to tell. Trent Jackson, a Wisconsin native, former NBA player and recent University of Wisconsin Athletic Department Hall of Fame inductee, placed the highest bid on the Lucy's #7 Burger Bar gift basket at the 2019 Regional Beloit Hospice Doves and Diamonds Gala, earning him the prestigious honor of creating and naming a world-famous Lucy's stuffed burger.
"We're excited to add the Hall of Fame burger to our growing list of successful BOMs," said Emily Hopper, General Manager of Lucy's. "Trent embodies what we're all about here at Lucy's – a can-do spirit, local pride, and hometown heart. Lucy would be proud."
A four-year starter on the UW-Madison basketball team (1985-1989) and one of the school's all-time leading scorers, Jackson's impressive track record continued beyond college, having played professional basketball for a number of NBA Veteran's Camps and internationally. Currently, he serves as a senior director of development at the University of Wisconsin Foundation, raising money for the Chancellor Blank's Diversity & Inclusion initiative. He is also a member of the City of Madison's Police and Fire Commission.
In September, the University of Wisconsin Athletic Department inducted Jackson into its Hall of Fame – an honor reserved for a select group of former athletes, coaches, and special service members who are recognized for their athletic prowess and contributions made to the University of Wisconsin. Thirty years in the making, Trent's recent induction is the inspiration behind January's BOM. Located in historic downtown Beloit, Lucy's is a neighborhood favorite, offering Midwest delicacies like its one-of-a-kind hand-stuffed burgers, loaded fries, cheese curds, milkshakes, and a selection of Wisconsin brewed beers on tap.
The Hall of Fame burger will be available January 1-31, 2020.
About Regional Beloit Hospice
A member of the Beloit Health System, Regional Beloit Hospice provides Palliative care for individuals with a serious illness and is focused on providing relief from the symptoms, pain and stress associated with the illness. Service area includes: Rock, Green, Walworth, Winnebago, Boone, McHenry and Stephenson Counties. For more information, visit www.beloitregionalhospice.com.
About Lucy's #7 Burger Bar
Lucy's is located in the heart of downtown Beloit, Wisconsin and displays the warm environment expected from a friendly neighborhood restaurant. People come from all over to experience Lucy's special stuffed burgers, a variety of Wisconsin beers on tap and other exceptional menu items. For more information, call 608.312.4477 or visit the website. Lucy's #7 Burger Bar is a member of the Geronimo Hospitality Group family of brands.