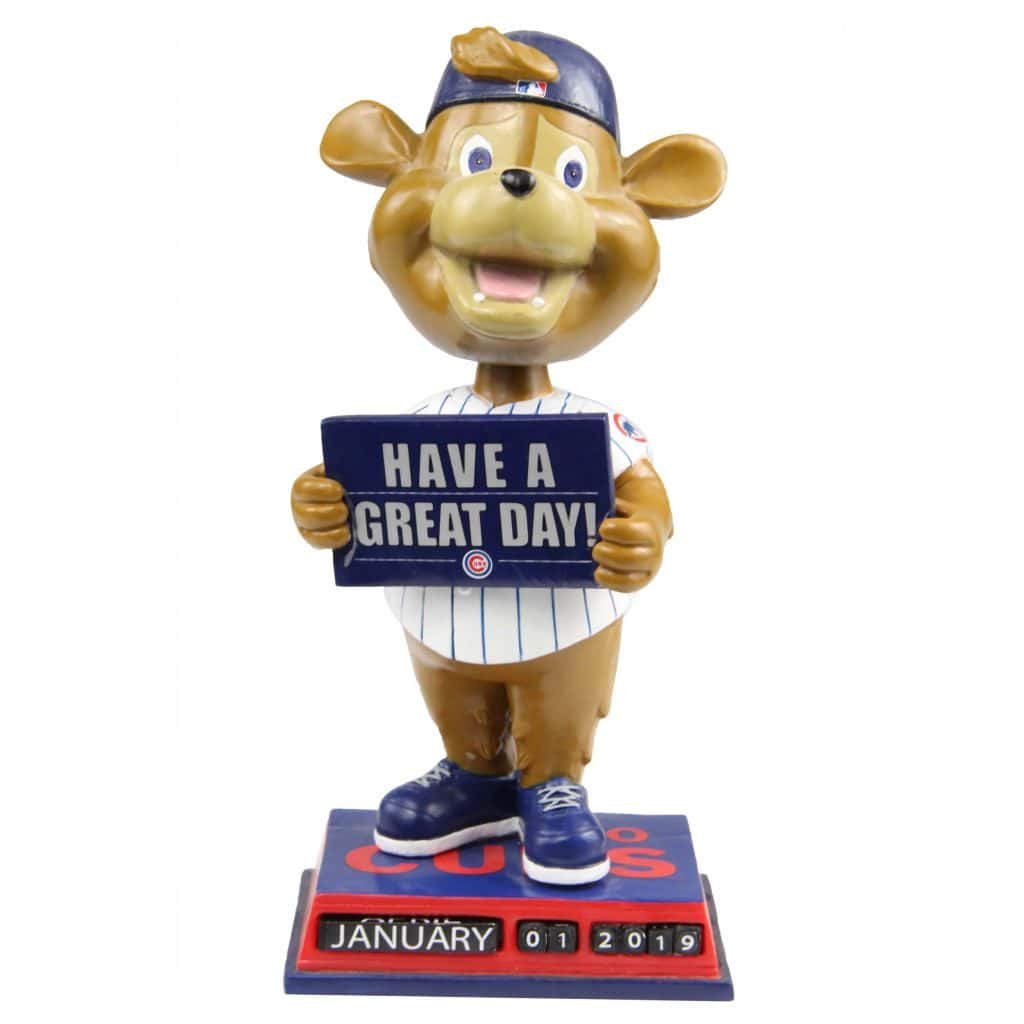 This morning, the National Bobblehead Hall of Fame and Museum unveiled an officially licensed, limited edition bobblehead featuring Chicago Cubs mascot Clark with a first-of-its-kind built-in calendar that can be changed each day. The bobbleheads were produced exclusively for the National Bobblehead Hall of Fame and Museum by FOCO, an official licensee and manufacturer of Chicago Cubs and MLB merchandise.
Standing on a base which incorporates a changeable calendar, the bobblehead features a smiling Clark wearing his signature backward baseball cap and holding a sign telling you to "HAVE A GREAT DAY!" This is the first bobblehead to incorporate a calendar.
Each bobblehead is individually numbered to 1,000 and they are only available through the National Bobblehead Hall of Fame and Museum's Online Store. The bobbleheads, which just arrived and ship now, are $40, plus a flat-rate shipping charge of $8 per order.
Established in 1876 as a charter member of the National League, the Chicago Cubs are one of the most popular teams in all of sports. "Clark" was announced as the first official mascot in the modern history of the franchise on January 13, 2014, as the Cubs became the 27th team in Major League Baseball to have a mascot. According to the Cubs, Clark was a response to fan demands for more kid-friendly elements at Wrigley Field to keep pace with teams in other cities that have more to offer young fans.
"Clark" may have been a good-luck charm in 2016 when the Cubs ended a 108-year World Series championship drought and a 71-year National League pennant drought. The 108-year drought was the longest in all major North American sports. Since the start of divisional play in 1969, the Cubs have appeared in the postseason 10 times.
"We're excited to release this new bobblehead concept featuring a built-in calendar as we embark on a new decade," National Bobblehead Hall of Fame and Museum co-founder and CEO Phil Sklar said. "Chicago Cubs fans are known for their passion and undying support and this bobblehead is sure to bring a smile to fans of all ages as they change the calendar each day."
The bobblehead is part of a select group that the National Bobblehead Hall of Fame and Museum is releasing today on the 5th annual National Bobblehead Day.
About the National Bobblehead Hall of Fame and Museum:
The National Bobblehead Hall of Fame and Museum, which is located at 170 S. 1st. St. in Milwaukee, Wisconsin, opened to the public on February 1st, 2019. The HOF and Museum also produces high quality, customized bobbleheads for retail sale as well as organizations, individuals and teams across the country. Visit us online and on Facebook, Twitter and Instagram.
About FOCO:
FOCO is a leading manufacturer of sports and entertainment merchandise celebrating more than 20 years in the industry. The company's always-growing product lines includes apparel, accessories, toys, collectibles, novelty items, and more. FOCO is licensed with all major sports leagues including the NFL, MLB, NBA, NHL, NASCAR, MLS and over 150 colleges and universities as well as entertainment properties such as Disney, Warner Bros/DC Comics, Nickelodeon and WWE. Please reach out to Matthew Katz, Licensing Manager, P 848-260-4315 – mkatz@foco.com for more information. Follow @FOCOusa on Facebook, Twitter, and Instagram for more exciting news and new product releases.